THE C.L.N.V. STRUCTURE
VENETO NATIONAL LIBERATION COMMITTEE

The CLNV (Veneto National Liberation Committee) is legally established and declared at the UN
Its structure is typically Venetian with pro-tempore offices and a decision-making body, the "Quarantia Etica" which works with a single purpose which is to obtain the Decolonization of the Venetian Territories occupied by Italy .
Currently the CLNV is made up of 40 operating people organized as follows: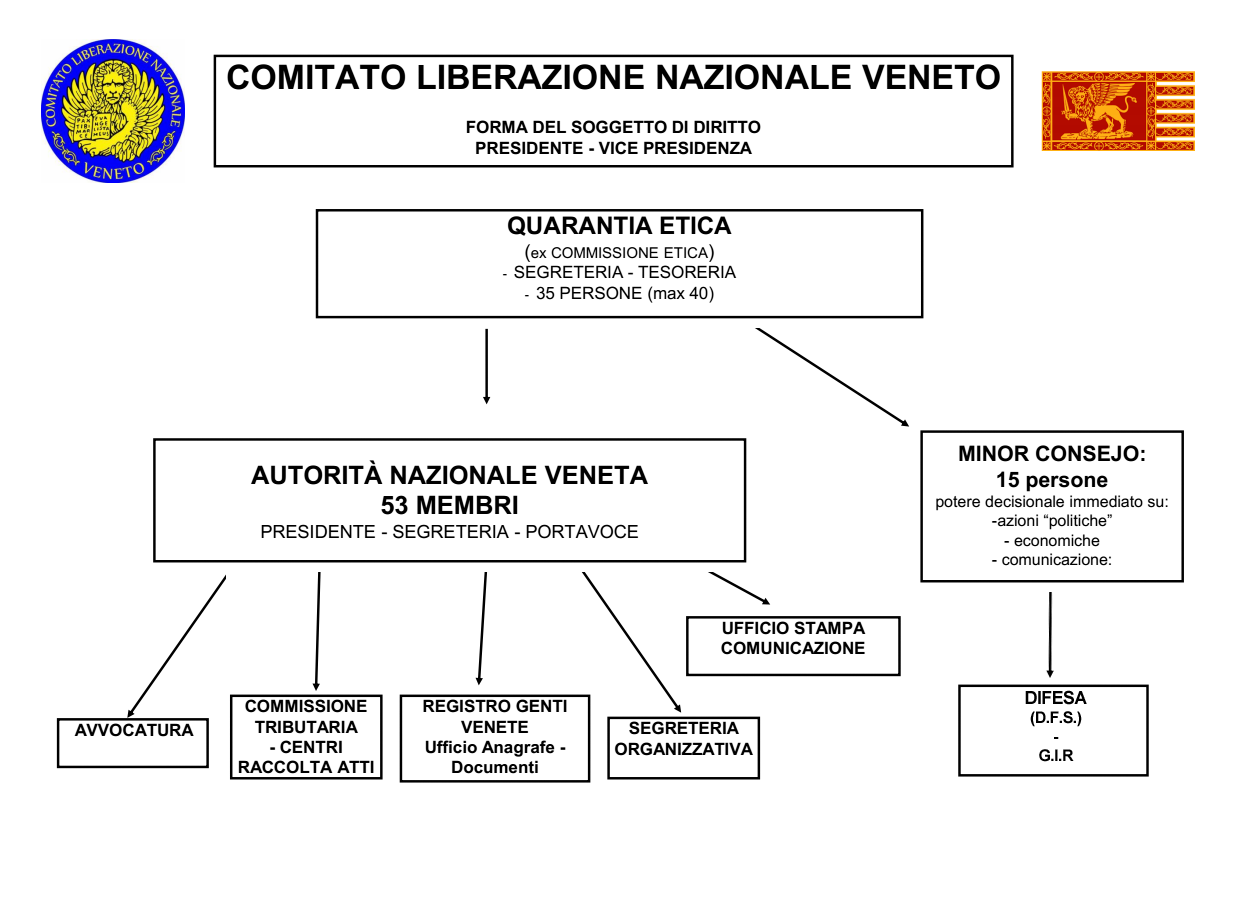 C.L.N.V.
THE FORM OF THE STATE:
THE INSTITUTIONAL BODIES
ETHICAL QUARANTY
It acts as a judicial body as the Supreme Court and can block acts issued by the Venetian National Authority or by the Minor Council within 7 days. from their emanation. Supervises appointments and dismissals within the Venetian National Authority and the Minor Council.
The Quarantia Etica is responsible for the financial management of the CLNV (Treasury) to be submitted to the Venetian National Authority with a monthly obligation –
Composed of 40 PEOPLE
VENETIAN NATIONAL AUTHORITY
s required by the 2nd Additional Protocol to the 1977 Geneva Convention.
It is the representative body of the Veneto National Liberation Committee and manages relations with international organizations and third states. Partial legislative and executive power over the ethical and juridical choices of the CLNV with possible blocking or revision by the Quarantia Etica of the issued documents.
Formed by members of the former Ethics Commission and members of the former
MINOR CONSEJOUS
Funge da Consiglio dei "Saggi".
It serves as the Council of "Wise Men".
Has immediate decision-making power over:
– "political" actions
– economic
– communication
– 15 members nominated by the Quarantia Etica
The Venetian National Authority is the representative political body of the Veneto People in international organizations and third states as required by 96.3 of the First Additional Protocol to the 1977 Geneva Convention. The Venetian National Authority is currently formed by the Ethics Commission in its entirety .
In addition to the legal structure, the C.LN.V. issued the VENETIAN GENTI PROTECTION (TGV), a non-governmental support organization, council and defense for all those Venetians who declare themselves in a state of self-determination. Within the TGV structure operate the Rapid Intervention Groups that defend all private citizens and entrepreneurs who are victims of repressive actions implemented illegally and coercively by the Italian occupying state, with timely actions.